This should be your animal emergency bible!
Fire, floods, tornadoes, and hurricanes are real. We get the warnings but find out truly unprepared we are when it happens and it happens quickly! This manual ensures you are ready to evacuate calmly and safely, minimizing the stress on you and your animals. This handbook is about animal safety.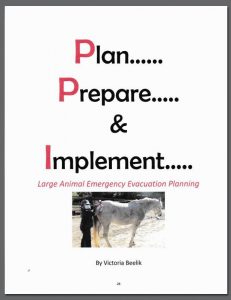 P

lan,

P

repare and

I

mplement Large Animal Emergency Evacuation Planning.
---
Soon to be re-released! We ran out of stock.. I love that! I am making a few changes and it will be available on Amazon as soon as they are complete.. Stay tuned.
Horse shopping can be fun. This hilarious book discusses names of horses, descriptions for horse ads, and how much that perfect horse will change the minute you get him home! This book will make you laugh so hard you'll cry.