PPI

Emergency Planning and Safety Clinics

(Plan, Prepare and Implement)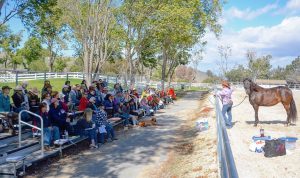 Click below to watch the PPI Clinic trailer.
https://www.youtube.com/watch?v=NUjOG8B2lIU&t=10s
 Check out this story from the Malibu Times
Malibu Times article about Vicky Beelik PPI Program.
 I can be reached at victoriabeelik@gmail.com.
How important is it to ensure your animals are safe during an emergency? Are they worth 3 hours of a clinic? If the answer is "yes", you'll want to move forward. My clinics are 100% geared to ensuring your animal's safety during an emergency. 
My goal is to make sure you have a safe outcome with reduced panic when an emergency happens. You may think you are at an entertainment event rather than a horse emergency planning clinic, but you will walk away motivated to start preparing and thinking, "Wow! I didn't think of that!"
I spend most of the clinic on planning. I focus on how to plan and what steps to take, starting immediately. People training, food, as in social events with your neighbors or fellow boarders, and the order of things. We review several checklists that can be utilized over and over for more than just emergency planning. I will show you how to make planning fun and effective with live demonstrations of (often) unwilling horses and volunteers..
Prepare: We discuss when to start preparing and what steps should be taken to prepare to evacuate
Implement: Go time for an emergency. What steps to take now that you're fully prepared, order of horse handling, and evacuation site behavior. I also discuss steps to take, if you need additional assistance.                                          
What sets this clinic apart? Although this is very serious information, I've been able to customize this clinic into an entertaining event that involves a lot of laughing. There is a lot of audience participation and live demonstrations. This is important because it motivates people to take action and action is what's needed to start planning. They walk away wanting to start planning rather than feeling like it will be a chore. 
What's included in my private PPI clinics:
Advanced planning: I will reach out to the local agencies to get the local evacuation team, animal services, CHP or Fire Department involved. This is based on your request. If they are unavailable, I will work with them to obtain pertinent information that can be provided at the clinic. This includes agency deployment process, social media links where agencies distribute important information during an emergency, websites and emergency telephone numbers. I can put this information onto a card that can be stored in a wallet or as a picture on a cell phone.
Handouts and checklists: The audience will receive a packet for different planning needs. We will review them during the clinic and explain some of the organization and communication planning. These handouts will be readily available to additional members of the area after the clinic. NOTE: These handouts are not to be publicly distributed or used for clinics presented by another group. Printing of these materials will be an extra charge unless it is set as part of the group rate.
Follow-up. Once we've had our clinic, I will continue to be available for the attendees. Anyone from the clinic is welcome to reach out to me and I will be glad to help and answer any follow-up questions.
Additional Services::
Process Implementation: I will meet with a designated group of people to scout the area, evaluate large potential meeting locations and look at the designated evacuation sites. We will map the area and develop recommendations for evacuations and meeting areas.
Custom clinics. Upon coordinators request,  I will create a custom clinic, this could be for areas that have close evacuation sites that horses can often walk to creating committees to help with the evacuation process and/or additional needs base on a groups request.
I travel throughout California for these clinics. Fees are based on the size of the group and location.
5 Star Ratings are always important! I want to make a difference for you!
Want to hear what others are saying?
Click here to see reviews on Facebook.
Here are a few other comments from previous customers:
"Vicky's seminar is a must for any horse owner who wants to be prepared when disaster strikes. After attending one of her seminars, you will have the knowledge you need to be confident in an evacuation scenario.", Susan E.
"There are a lot of safety clinics out there. Although this is serious stuff, she made it very fun. We walked away ready to start training." Roger D. (Retired Sheriff)
"It was fun and educational." A secret admirer
"Yes, it was very educational. I made my emergency contact list that weekend during a small BBQ. But honestly, you were soooooo funny!!!! I fully expected this to be another boring clinic, but it was the opposite. You made me laugh so hard."- Linda Ferari 
Please contact me at victoriabeelik@gmail.com  if you'd like more information or would like to schedule a seminar
Here are additional video's that may be helpful in your planning preparation. Just click on the title and watch:
How to attach an ID tag in your horse's mane: https://www.youtube.com/watch?v=velqDeqFYiA